Howdy friends,
It's that time of year again when the leaves change and the air is crisp. A bit of snow graces the high peaks, and the passionate call of elk echoes through the canyons…my favorite time of year! So I have the horses shod, boots oiled, and paints packed ready to go.
I love the transition from summer to fall. Undoubtedly, Mother Nature offers this last splurge of excitement before the long cloak of winter sets in. And then we have the animals; I can't get them out of my thoughts. Frequently I'll catch myself staring out the windows of the studio looking at the hills and mountains wondering what they are doing today. Admittedly, I daydream. It's an intoxicating wanderlust of conjuring up old memories and creating new adventures from time spent in the field: the smell of the cottonwoods as a bull moose casually saunters through the shadows, a distant bugle from a bull elk, and the sound of the sage as it brushes my leg while slowly easing up on a group of mule deer foraging at dusk. This mental imaging and longing can cause pure agony for an artist in the studio! So I must go out. I must sense and see it all firsthand. I feel so blessed to enjoy this calling as an artist and to translate these experiences for you to enjoy.
"Perspective"
Not all of us can spend everyday with nature, but my hope is that I can preserve those memories through a painting for you to experience. A bristle brush with paint and canvas can bring you back to nature and uplift your spirit when you're mired down with life. This is the real value of art—uplifting one's spirit on a continual basis everyday.
Amy has worked very hard to build a new, fancy website for us. Check it out for all the latest available works and our "out and about" art world. She is pretty talented I might say, and this new site has all the bells and whistles for better viewing and connection to us. For quality's sake, it takes a second to load pages. So as the change of seasons occurs, we will bring you new memories alive via the site: http://chadpoppleton.com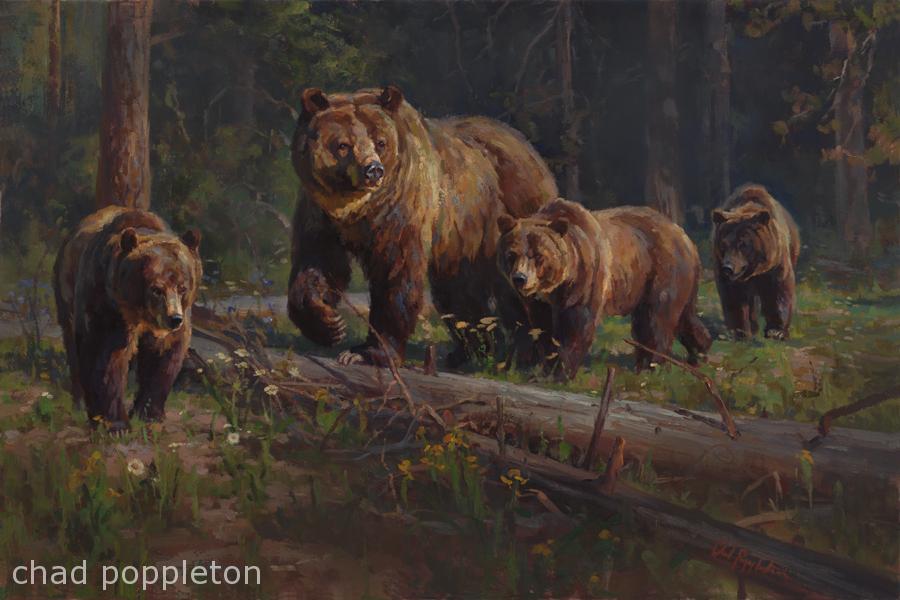 "399 Wilderness Matriarch"
Check back often, because I'll be in the field painting a lot this season. We will be in Jackson Hole Wyoming, in Legacy Gallery on Friday September 16, 2016, I will also be participating in the annual Quick Draw for the Fall Arts Festival on Saturday Morning on the square, then in the Gallery Saturday afternoon September 17, 2016. We would enjoy seeing you. Please enjoy the first days of fall and these original oils.
See you down the trail,
Chad and Amy Poppleton
"The Big Man on Campus"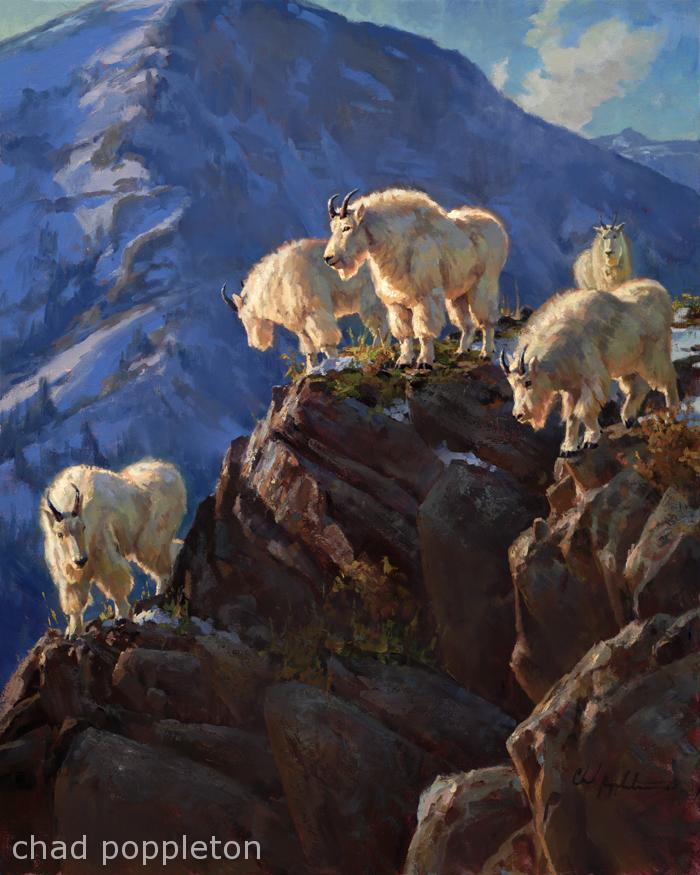 "Wisdom and Discernment"